Leipzig v Hertha Berlin
Betting suggestion:  
Leipzig & over 2,5 @1,746 Pinnacle
RB Leipzig over 2,5 @2,07 Pinnacle
Both teams to score & over 2,5 @1,892 Pinnacle
Short preview: I had those suggestions ready already yesterday but seeing Leverkusen failing against Wolfsburg at home, I thought odds might raise a bit and that's what happened. Leipzig is entering this match from the 3rd position with 3 points less than 2nd Dortmund and 1 more than Gladbach and Leverkusen. As mentioned, Leverkusen lost yesterday, while Gladbach got only 1 point against Werder Bremen, and with the known defeat of Dortmund on Der Klassiker, Leipzig has great chances to equalize the number of points with Dortmund. As Jose Mourinho was used to say, Leipzig is a team with extremely solid bench, and with a great coach as Nagelsmann definitely is, they are capable of changing the rhythm of the game enormously with substitutions. We've seen this team playing at a really high level before the "corona-break" and what changed? Well, they got players like Upamecano and Kampl back available, and even though Ampadu, Konate, Poulsen are out, and Laimer picked up a smaller injury against Mainz and probably won't start, they have Werner back scoring, Kampl returned after longer-term injury and shown a top performance on both matches and I think that even though Hertha won first two matches against Hoffenheim and Union Berlin with 0-3 and 4-0 and looks very positive after Labbadia took over. One of the best individuals is the recent signing from Leipzig, Matheus Cunha, and will be surely extra motivated today. Besides him, it looks that the veteran Ibisević "kicked out" Piatek from the position of lone striker but we might see both of them on the pitch today. Of course, everything will depend on the result but I can not see Hertha keeping another clean sheet. Leipzig is one of the teams that can attack with several different approaches and it will be very tough to defend without a mistake for the opponent. Both sides in a good form, both like to attack and even though I expect to see both sides scoring, I expect Leipzig to score at least three as usual at their Red Bull Arena.
Leipzig will miss Ampadu, Konate and Poulsen.
Hertha is coming without Stark, Rekik, Ascacibar, and suspended Kalou.
Bayer Leverkusen v Wolfsburg
Betting suggestion:  
Leverkusen -0,5 @1,77 Pinnacle
over 2,5 & both teams to score @1,95 Pinnacle
Short preview: If we take a look at the league table, we can notice those two teams really close to each other (4th vs 6th), but with 14 points gap, it's clearly visible that Leverkusen have a much better season than Wolfsburg. The same goes for the form after the lockdown, as Leverkusen won both matches with 7-2 goal difference, while VfL won once and lost once. They won away at Augsburg, while they lost again Dortmund last week. As I watched the match, I have to say that they started the match with too much respect and everything looked much better in the second half when they prepared some chances, but Dortmund was simply better and I expect nothing different this time when they will be hosted by probably the best "most in-form" team in Bundesliga at the moment. Leverkusen, especially with Kai Havertz on fire looks very prolific. At home, they simply have to get the job done. Wolfsburg will try to get their chances in their "physical" way, with strong, tall strikers like Weghorst and Ginczek, but with the performance, they showed against they didn't convince me and I think it won't be enough for current Leverkusen. Moreover they added some "missing players" on the list with Mehmedi and Klaus being unavailable for the manager. They might score as a product of a set-piece situation or simply an in-play cross, but I see Leverkusen scoring at least one more.
Leverkusen will miss Bender, Tah, Volland.
Wolfsburg is still without Gerhardt, William, Otavio, Mehmedi, Guilavogui, Karamoko, Camacho and Klaus. 
Borussia Dortmund v Bayern Munich
Betting suggestion: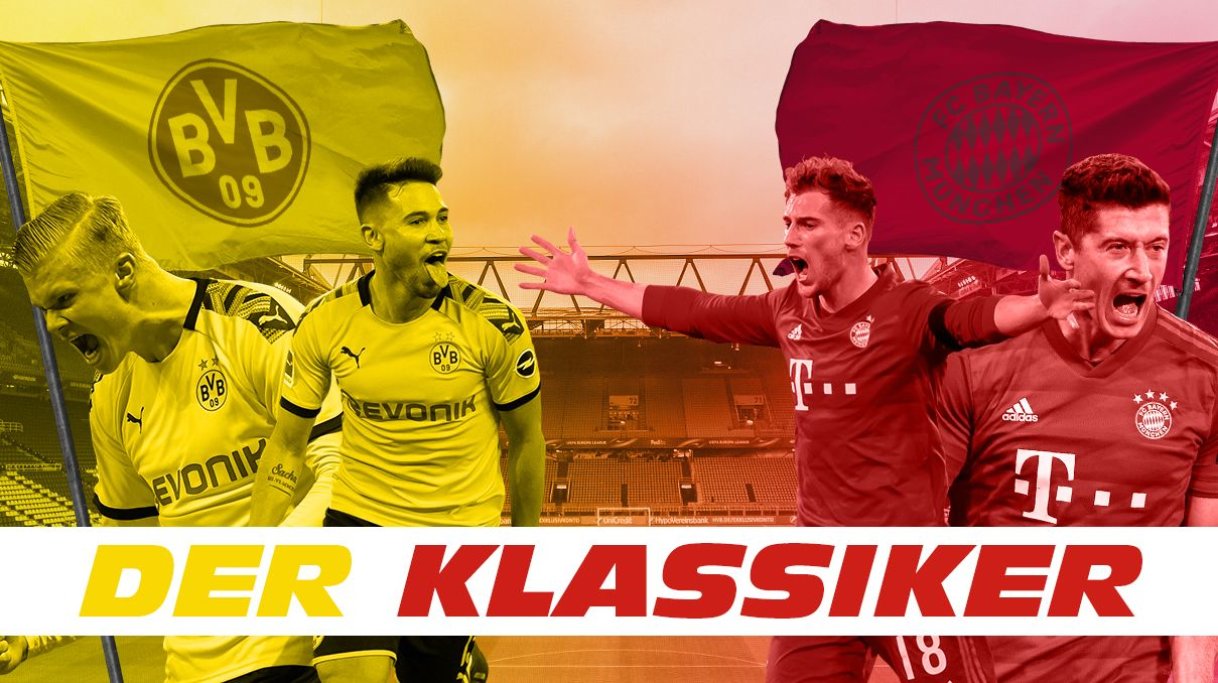 Borussia Dortmund +0,75 @1,884 Pinnacle
Short preview: I started talking about Der Klassiker already in the last round, where especially Dortmund had a tough task to do when they faced Wolfsburg away and they finished their job perfectly. Unfortunately for them, Bayern extended the gap right after by beating Eintracht with 5-2, therefore the situation hasn't really changed as Dortmund have to do everything not to lose this derby. Unfortunately, they won't be able to count on the great support from the standings which would definitely make the "life heavier" for the opponent. Good news for BVB is that Hans-Dieter Flick can not count on Thiago Alcantara who is without a single doubt the most creative player in their team. Anyways, Thiago hasn't participated in the last match against Frankfurt either, and Bayern won with 5-2 and looked like if they play on 50%. That might sound like they are monstrous but it can also sound like they didn't really reach the highest level, or let's say performed as good as they can. Will they perform at their maximum today? If they will, I believe they will win this match, but at the same time, I have to point out that BVB played some very mature football in the last two matches. I expect Bayern to dominate and create a bit more chances, but for me this match simply looks match more equalized than the bookies are showing. If the home side scores first, I think Bavarians will find themselves in a very tough position as they will be forced to play a bit less cautious and that would be a perfect situation for BVB as they are simply dreadful on counters. Once again, I do believe Bayern is the better side at the moment, that they have simply more quality in the squad, but odds are in my opinion favorizing them too much, therefore the Asian handicap +0,75 which means we lose only half of the stake if Bayern wins with 1 goal difference represents value to me.
BVB will miss Zagadou, Schulz and Reus.
Bayern will miss Süle, Thiago, Tolisso, Coutinho.
Other suggestions:
Eintracht Frankfurt – Freiburg
Eintracht Frankfurt -0,5 @2,06
Werder Bremen – Borussia M'Gladbach
Both to score & over 2,5 goals @1,961