Real Sociedad v Leganes
Betting suggestions:
Real Sociedad -0,75 @1,97 Pinnacle
over 2,25 goals @2,06 Pinnacle
Short preview: Firstly, I had only Real Sociedad to win on my list, but I suggest a bit smaller stake on over in goals as well. I can remember matches from the last season, where Sociedad entered them as a big favorite but started the match with few missed chances and playing too much comfortably, letting a lot of space in the defense and the opponent took advantage. Truth is, that they look a bit more serious this season, more mature, and therefore I believe that they will win this match, but I think they will have to score twice to get it "c0mfortably". Leganes is in a horrible form, winning only 5 points in 12 matches so far and it's not a surprise to see them at the bottom of La Liga. Their opponent is completely on the other side of the league table, as they are "sharing" the first spot with Barcelona and Real Madrid. Unfortunately, Odegaard is still out injured, but they seemed pretty strong without him in Granada. Basque team has an opportunity to jump on the first place of La Liga, and who else would you want to play against than the worst team in the league at the moment?
Valencia v Granada
Betting suggestion:
Valencia -1 @2,26 Pinnacle
Short preview: Valencia overturned the result in mid-week against Lille, and won 4-1, so they are coming into this clash with Granada with heads up. With some players coming back from injury, they start looking better and better, and soon, I expect them higher on the league table. Current 13th place looks bad, but results in La Liga this season are something "new", as even Valencia is only 5 points behind the league leaders. Therefore nothing is lost but it will be crucial to collect points at home. Granada seemed like a surprise of the season three weeks ago, but two consecutive defeats against Getafe away and Real Sociedad at home "pushed" them in the 6th place. Still, they are 2 points behind the 1st and 3 in front of 13th Valencia, but I think Valencia should simply take advantage of quality difference and the home stadium, so I expect all three points to stay at home. Granada isn't afraid to attack, so I believe they won't play defensively, which I see as an opportunity for the home side to score even more.
Atletico Madrid v Espanyol
Betting suggestion:
Atletico Madrid -1 @1,88 Pinnacle
Short preview: Talking about the worst team in the league, Espanyol isn't far from that. They've got 3 points more than Leganes, but still… 8 points of possible 36 is a catastrophic result and considering the away match on Wanda Metropolitano, where Atletico conceded only 1 goal in last 4 matches, I can not see "anything good" happening for Espanyol in this round. Atletico lost the champions league match in Leverkusen on Wednesday, but Espanyol will play the match even a day later (today against Ludogorets), so all in all, Atletico will have a day more to rest. Besides all of that, Simeone has a way bigger squad, so that's the factor going in favor of the home side. Atletico is at the moment only a point away from the first three teams, but as mentioned above, one or two bad results can very easily kick you down to the 13th spot. I've been looking at the odds on the clean sheet, on Atletico to win to nil, but I think the best suggestion is simply to take the Asian handicap -1, which means the bet will be voided in case of only a goal difference in favor of Atletico. Honestly, I can not see Espanyol setting up a surprise in this one …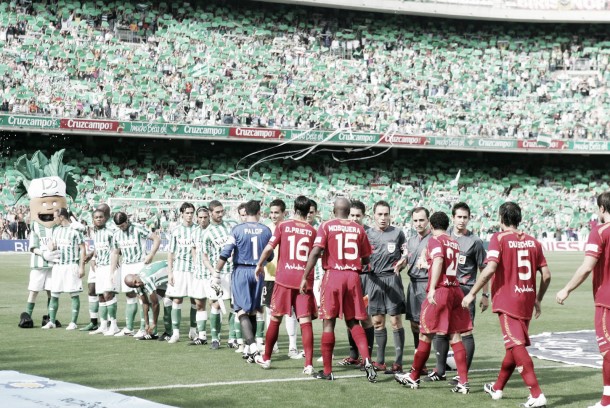 Betis v Sevilla
Betting suggestion:
over 3 goals @2,46 Pinnacle
Short preview: Without a doubt the biggest match of La Liga this round will be played in Sevilla, where Betis will host the city rival Sevilla on Benito Villamarin stadium, which is known as one of the loudest venues in Spain. While Sevilla is doing pretty fine, having 21 points, being on the 5th place, only 2 points behind the league leaders, their rival, with 13 points in 12 matches aren't in the best form, but at the same time we have to mention that they've won against Celta in the last match at home, and snapped a point on Santiago Bernabeu last round, so they are coming in to the derby Sevillano with a solid atmosphere. In any case, in matches like this, current standings aren't really important… The last match on Pizjuan finished with 3-2, and I expect to see a goal-fest this time as well.